On September 18th, the ASEAN Global Leadership Program (AGLP) of Cheung Kong Graduate School of Business (CKGSB) visited the Ant Z Space at Xixi, Hangzhou. Leading by Zhou Li ,the assistant dean of CKGSB, the program included39 senior executives from well-known financial institutions, Indonesian government departments and large enterprise groups. Justin Ji, the Global Business Line head of Ant Financial and senior product expert, and David Yu, founder & CEO of VFinance(维金) ,were invited to give lectures about the globalization of FinTech.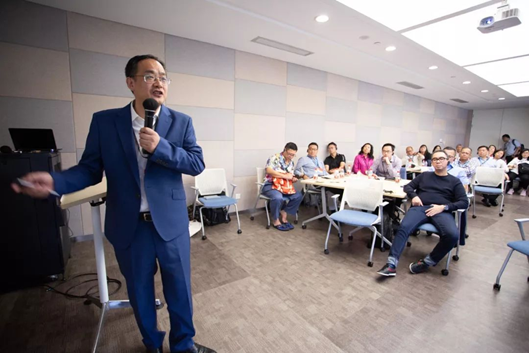 David Yu, founder and CEO of VFinance
Integrated with the currentconditions of Indonesia and China, David Yu began with an in-depth explanation on the issue of how TechFin can enable new economic industries. He mentioned that because of the tremendous changes of consumers' demands, financial development, user experience, and industries, etc. in both of Indonesia and China in recent years, there are changes in the middle and back ground of business, financial infrastructure, and economic characteristics accordingly. But operators may not fully understand the loan, interest rate, risk, etc. What they really want is to pay how much cost, and get how much return. "The biggest difference between TechFin and FinTech is to help these companies find problems in development every day and correct them in time." David Yu answered a question from a student on how to differ FinTech and Techfin.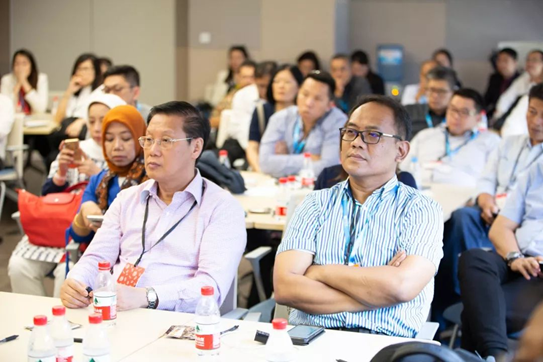 AGLP Students
David Yu believed that the integration of consumption and investment, the integration of marketing and settlement, and the integration of payment and discounts are the common trends of demands for both of industrial development and consumers, and also the direction that TechFin will help in the future. . The rapid development of these new economic unicorn companies in China in recent years has enabled them to get tens of billions or even hundreds of billions of capital flow and millions of users.However, their lack of the ability and qualification to manage capital will cause serious risks. Basing on these new demands, VFinance and Mybank cooperate together to provide stable technology and bank's ability to enterprises through a platform product – V-Connect. By the end of August 2019, the number of merchant accounts connected by V-Connect exceeded 3.27 million RMB, the quantity of individual user accounts exceeded 34.61 million RMB, and the maximum transaction amount processed per week exceeded 7.3 billion RMB.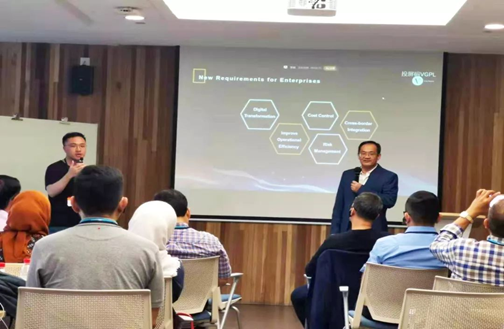 David Yu, founder and CEO of VFinance
Then David Yu made some introductions to VFinance's current TechFin projects implemented overseas, including Jollychic, a Middle East e-commerce platform known as the "Middle East Amazon", and Funpay Technology, theAfrican "Alipay". At the same time, He expected to combine the middle and back ground of business with technology and deliver to more financial institutions and industries to create a healthy chemical reaction.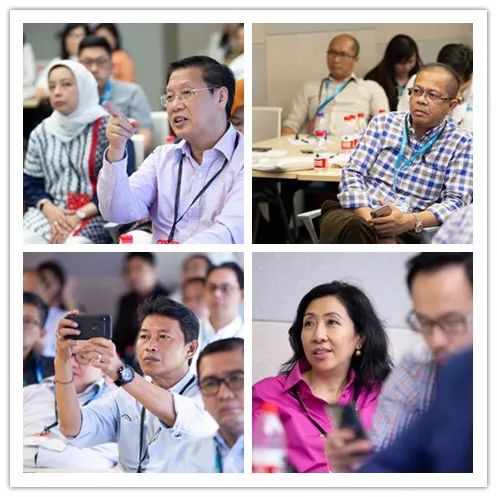 AGLP Students
This sharing was unanimously recognized and warmly discussed by the students. They expressed their expectation that Ant Financial and VFinance will continue to serve more new economic enterprises in the future, so as to further promote and empower TechFin to global enterprises.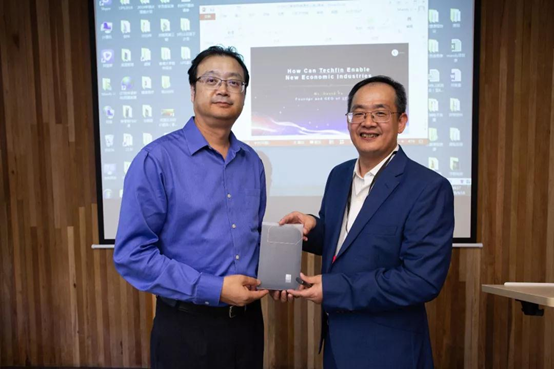 Zhou Li, CKGSB Assistant Dean (Left) and
David Yu, Founder and CEO of VFinance (Right)
About CKGSB
Founded by Li Ka Shing Foundation and officially approved by the state, CKGSB is a non-profit educational institution with independent legal entity It has been accredited by both of AACSBand EFMD, and authorirised to award MBA and EMBA degrees by the Academic Degrees Committee of the State Council. Its goal is to enter the world's top ten business schools within a decade.